TANZANIA February 27,2022 - March 15, 2022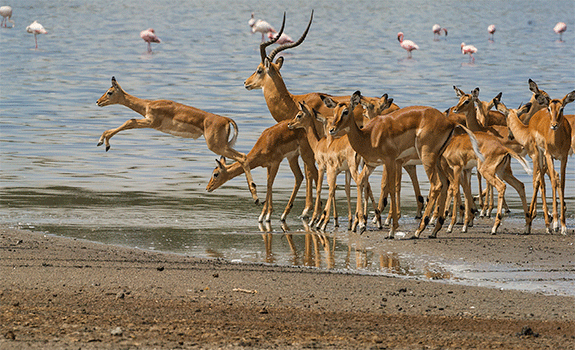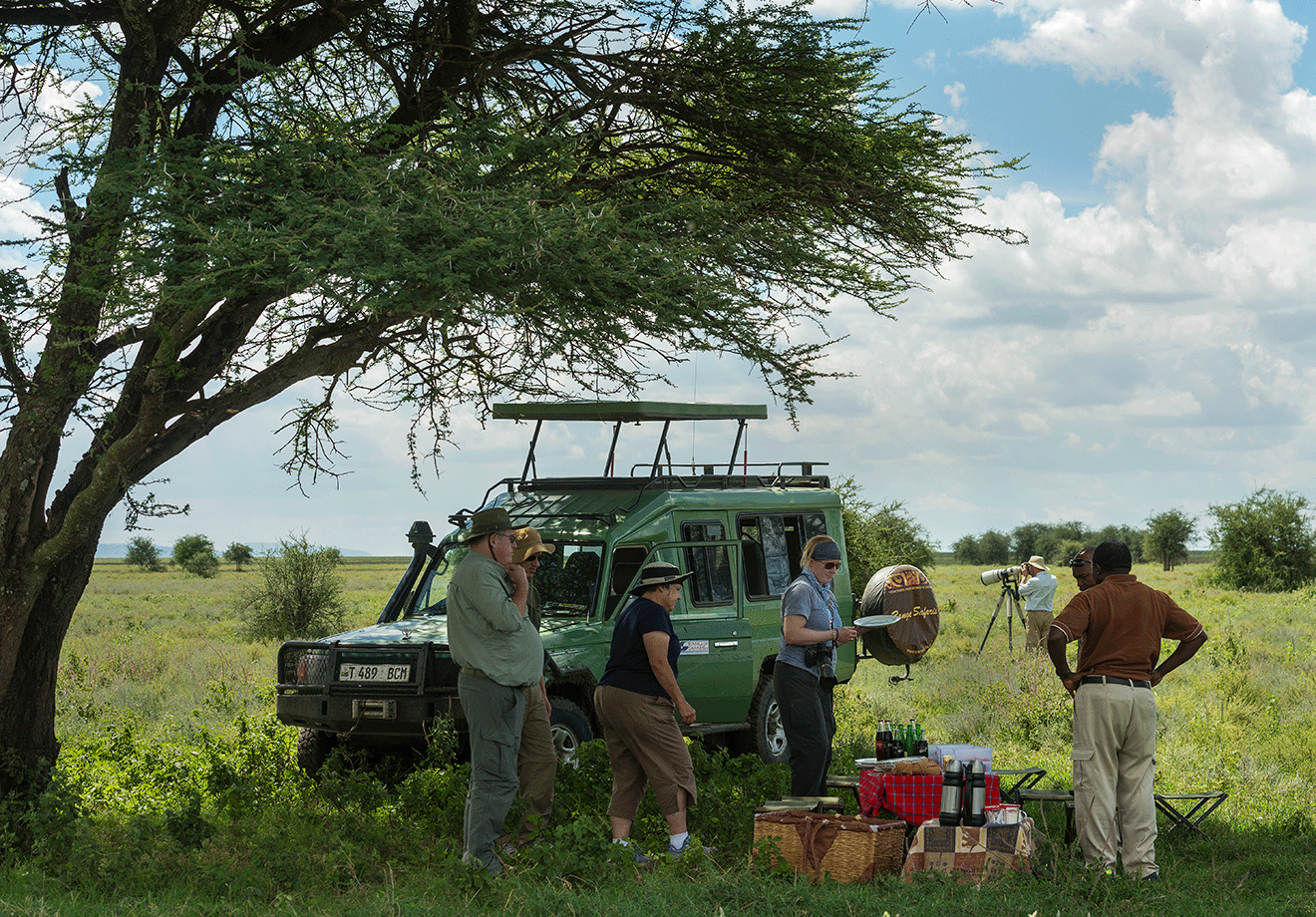 East Africa is without peer as the wildlife capital of the world. Join us as we capture the best it has to offer. We have drawn from our decades of professional wildlife photography and safari experience to design a unique safari for serious wildlife photographers.
This photo safari is twelve full days of actual photo time in the field.
We do not count travel days as safari time.
This will be our sixth Wildlife Photo Workshops Tanzania Safari. Each safari we have taken was an awesome, unique, and extraordinary adventure!
We have again selected this time of year and this safari route because our experience has proven it to be the best time of year to get maximum wildlife photography opportunities. This is the time of year when the Great Migration has crossed the Mara River and is moving south. The savannahs are lush and green. Tens of thousands of wildebeest, zebras and many other animals are on the move and we will be in the middle of it. This is also the time when many babies are being born both to prey and predators. Importantly, this is a time of year when the parks and game drives are not crowded with dozens and dozens of vehicles.

We will be taking only 7 participants, for a total of people 9 photographers. There will be 3 safari vehicles with only 3 photographers per vehicle. This arrangement gives each photographer lots of room to move around in the normally 9 passenger vehicles. Everybody will get great angles to photograph wildlife.

Our safari takes place in Tanzania's best game parks. We arrive in Arusha and spend the night at the Lake Duluti Serena Lodge*(see Early Arrival below). The next day, we journey on to Tarangire National Park photographing wildlife along the way. Tarangire National park has the second greatest concentration of wildlife outside the Serengeti ecosystem. There are herds of up to 300 elephants, many varieties of antelope, and of course the predators that prey on them. It is one of the very few places where you might see a tree-climbing python and fringe-ear oryx. We will spend two nights here at the Tarangire Sopa Lodge.

From Tarangire, we will do a game drive through Lake Manyara National Park on our way to the world-famous Ngorongoro Crater Conservation Area. Here, we will descend from our lodge into this long-extinct volcano. Considered to be one of Earth's greatest concentrations of wildlife, the crater is home to lions, leopards, cheetahs, rhinoceros, zebra, wildebeest, giraffes, and many other species. There is truly no better location for witnessing and photographing the drama of animal behavior in the natural world. We will spend three nights at the beautiful Ngorongoro Serena Lodge so we may have the opportunity to spend two full days photographing this unique wildlife-filled place. The lodge overlooks the crater offering spectacular views of this unique area.

Our next stop is in the Ndutu Conservation area. Ndutu is one of our favorite places as we can drive off-road. This allows us to often get closer to and follow the action. The area is loaded with wildlife, especially cheetahs. We will spend three nights at the Ndutu Lemala lodge to take full advantage of the off-roading and the huge variety of wildlife.

From Ndutu we will continue our safari to Serengeti National Park. The Serengeti is Tanzania's largest and most prominent National Park. It has a vast array of wildlife but is most famous for its large number of lions and leopards. We have selected this time of year as we should be in time to catch part of the Great Migration as the huge herds of wildebeest and zebra move south. This is also the time of year when many of the animals are dropping their babies, giving us an opportunity to photograph mothers, their babies, and their interactions. In the Serengeti, we will stay three nights at the Ole Serai Turner Spring.

Our safari ends with a flight back to Arusha and a day room at the Arusha Coffee Lodge to enjoy lunch, pack up and rest for our flight home that evening.

There are many safaris to Tanzania and East Africa to choose from, but our safari differs in that we are 100% wildlife photography focused. We usually leave the lodge before sunrise and return at sunset. Breakfast is a box breakfast on the road and for lunch, we usually picnic in the field. By doing this, no valuable photography time is lost. We don't spend time on side trips or sunning by the pool. We spend our valuable time photographing wildlife. If we need to spend extra time with a great subject, we spend it. This safari was designed by experienced professional wildlife photographers for wildlife photographers.

Wildlife Photo Workshops always strives to provide an experience that is personal, comfortable, and rewarding. Thus, we have engaged drivers and guides that we have worked with before and specialize in working with photographers. In addition, we have reserved deluxe accommodations with superb dining throughout the trip. We will provide personalized instruction, technical guidance, editing advice, and photo critiques.

You will enjoy this adventure from a spacious Land Cruiser that seats 9 but is shared with a maximum of 3 other members of our group to maximize your comfort. We only have a few spaces still available, so if you are serious about nature photography, and ever wanted to photograph the best wildlife area in the world make your reservation with us now.


* EARLY ARRIVAL: We offer the opportunity for you to fly into Arusha with us one day early. This gives you the chance to rest up from the long flight and time change. It also helps to ensure that you will not miss any safari days due to missed connections or delayed flights. It takes a lot of stress out of travel. If you choose this option you will depart the U.S. on February 27. The cost for the extra day at the hotel is $175 double occupancy or for a single supplement add an additional $55.


DETAILED ITINERARY:
February 27, 2022 Depart USA –Depart the states early for an extra day in Arusha- for rest, preparation, and to avoid possible flight, baggage delay.
February 28, 2022 Arrive at Kilimanjaro airport, clear customs, and immigration, and transfer to Arusha town. We will be met by our safari outfitter who will help with the transfer. Lodge: Lake Duluti Serena http://www.serenahotels.com/serenaarusha/en/default.html
March 1, 2022 Arusha - Rest Day at the lodge Lodge: Lake Duluti Serena http://www.serenahotels.com/serenaarusha/en/default.html


March 2, 2022 After breakfast, we will drive to Tarangire National Park known for its large herds of elephants. After arrival, we will do a full day game drive.
Lodge: Tarangire Sopa Lodge (2 nights) https://www.sopalodges.com/tarangire-sopa-lodge/the-lodge


March 3,2022 Tarangire National Park- A second full day game drive with opportunities to photograph over 90 species of mammals and 500 bird species.


March 4, 2022 After breakfast, we drive to the Ngorongoro Crater. On the way, we will do a game drive through Lake Manyara National park. Lake Mayara has offers some great opportunities for photographing monkeys, elephants, and a wide variety of birds. We will have lunch at Tortilis Game Camp. We will then drive on to the amazing Ngorongoro Crater.
Lodge: Ngorongoro Serena Lodge (3 nights) www.serenahotels.com/serenangorongoro/en/default.html


March 5 & 6, 2022 Ngorongoro Crater – We drive to the bottom of the Crater for all-day game drives. Ngorongoro Crater is one of the largest concentrations of wildlife in the world. It is spectacular! Most safari trips do one day here. We want you to get the most out of it so we do two days. To maximize our time in the crater we will leave very early in the morning, have a box breakfast and a picnic lunch in the crater.


March 7 Ndutu - After breakfast, we drive to Ndutu where you will enjoy off-road wildlife drives. For those that would like, we will stop for a visit to a traditional Maasai village. Those who opt to not visit the village will continue on for a game drive. We will spend three nights at Lemala Ndutu Safari Camp. . We will each have our own luxury tent at this traditional safari camping lodge. We have often stayed here in the past and most of our participants tell us that this was their favorite lodge.
Lodge: https://www.lemalacamp.com/mara-ndutu-tented-camp


March 8-9,2022 Ndutu – Two full days of off-road daily game drives. Cheetahs, lions, Leopards, and the tens of thousands of animals on the Great Migration make these days an incredible experience. We will be able to drive everywhere "off-road" for some really great close-up photography.


March 10, 2022 Ndutu to Serengeti –Serengeti After breakfast we drive to the central Serengeti enjoying a game drive along the way.
Lodge: .Ole Serai Turner Springs (4 nights) https://www.wellworthcollection.co.tz/Ole-Serai-Luxury-Camp-Turner-Springs


March 11-13, 2022 Serengeti National Park – Two full days of game drives in the world's most famous wildlife kingdom. Famous for its lions, the Serengeti will also give us opportunities to photograph leopards as well as many other predators and prey. We will also be able to photograph more of the Great Migration passing through.


March 14, 2022 Serengeti – Arusha - After a morning game drive in the Serengeti we board a plane and fly back to Arusha. We will be met at the airport and driven back to Arusha Coffee Lodge where we will have day rooms. Here we can re-pack, have meals and rest up for the flight home. In the late afternoon, we will be driven back to Arusha International Airport for the flight home at the end of our EXPERIENCE OF A LIFETIME
March 15, 2022 - Arrive back in USA
INCLUDED:
Arrive at Kilimanjaro Airport with a VIP meet and greet
11 Full days of photo safari
1 night Lake Duluti Serena (2 Night with Optional Early Arrival)
2 nights Tarangire Sopa Lodge
3 nights Serena Ngorongoro
3 nights Lemala Ndutu
3 nights Ole Serai Turner Springs
Dayroom Arusha Coffee Lodge
Full board in lodges in parks
Visit a Massai Village (Optional)
Transportation in a safari 4x4 land cruiser
A private, highly qualified driver with 3 to the vehicle
All park passes
2 Crater all-day drives
One way scheduled flight from Serengeti to Arusha
A dayroom at Arusha Coffee Lodge and Lunch
Flying Doctors Service
Transfer to airport
All Accommodations Are 4-5 Star
NOT INCLUDED:
International air
Visas
Trip Insurance (highly recommended as this is a non-refundable trip)
Tips to drivers and hotels
Required Covid-19 Tests
Any charges beyond our control such as government taxes or surcharges
Meals on the optional extra day of arrival
Water is only provided in the safari vehicle
All drinks except where designated
Any personal items
Anything not mentioned in this itinerary
PRICING:
Price: $11,300 per person (double occupancy)
Deposit: $3,000 per person
Single Supplement: $950
Early Arrival: (Extra Night in Arusha): $175 (double occupancy)
Single Supplement for Early Arrival: $55
NOTE: As always itinerary is subject to change
For Additional Information or questions please feel free to e-mail or contact us by phone:
e-mail: This email address is being protected from spambots. You need JavaScript enabled to view it.
Phone: cell: 310-994-0514
office: 360-289-3014