Galapagos Wildlife Adventure - June 5 - 14, 2022 (Postponed From May, 2021due to CV-19)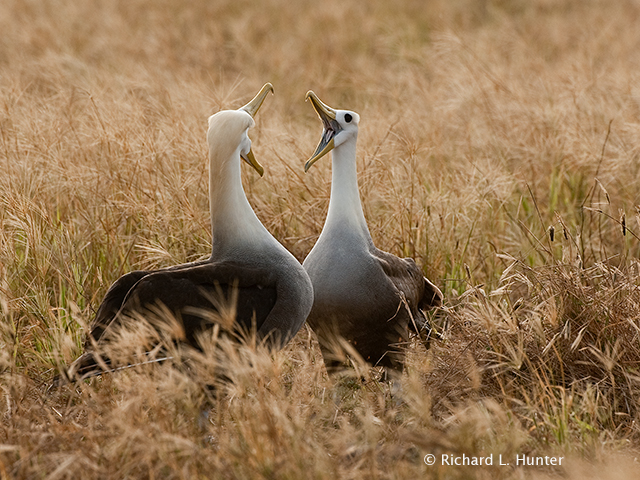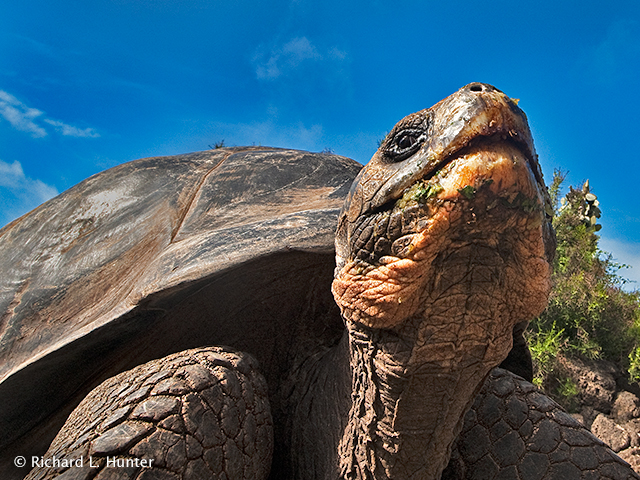 There are two destinations on every wildlife photographer's "Bucket List;" East Africa and The Galapagos. At Wildlife Photo Workshops we have done East Africa (Tanzania) multiple times and it is indeed fantastic. Now it's time to finally take the cameras to explore that second bucket list destination, The Galapagos.
Straddling the equator 600 miles west of Ecuador lies what is perhaps the most famous and best preserved wildlife sanctuary in the world, the Galapagos Archipelago. Isolated from the rest of the world for many millenniums, the Galapagos developed its own unique indigenous flora and fauna. Charles Darwin first brought this distinctive wildlife to the world's attention when he based his Theories of Evolution studies on it. Today, the Galapagos are carefully controlled and preserved as one of the greatest wildlife sanctuaries on earth. Here the wildlife remains, virtually the same, as it has been when Darwin set foot on these shores almost two hundred years ago. If you love wildlife photography, close encounters with unique birds, seals, tortoises, iguanas and numerous other species, while aboard a luxurious yacht, in one of the most beautiful place on earth, join us on our Galapagos Wildlife Adventure.
Our itinerary takes us to some of the Galapagos best wildlife photography destinations and includes opportunities to actually get in the water, with a snorkel, in order to photograph marine wildlife in their natural underwater environment.

Our Ship – The Infinity
Built in 2018, the Infinity Luxury Yacht exceeds everything seen before. She offers high performance, unrivalled comfort, respect for the environment and stunning style. Infinity is 161 feet long, carries a maximum of 20 guests and has a crew of 11. Every cabin is spacious with glass doors and a balcony. There are multiple outdoor decks for relaxing or to set up your camera. Besides snorkeling with the wildlife, Infinity offers the opportunity to kayak or just relax on the sun deck in a Jacuzzi. On shore, our group will have our own private naturalist / guide.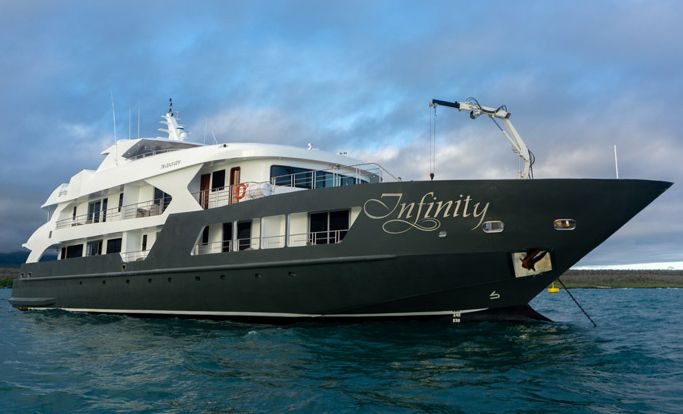 Itinerary In Brief
Day 1 – Arrive in Quito, Ecuador – Transfer to Swissotel –
Day 2 - Rest day in Quito as many flights from U.S. are red-eyes. Optional tour of Quito
Day 3 - Transfer to Airport – Fly to Galapagos – Transfer to Infinity. In the afternoon we visit Black Turtle Cove
Days 4 – 9 Explore the Galapagos aboard Infinity (see Itinerary in Detail below)
Day 10 – In the morning we visit Gianni Arismendy Interpretive Center on San Cristobal Island. In afternoon we transfer to airport for the flight to Quito to meet connecting flights home. If you like, or if you have an early morning flight, the next day, we can reserve a room for you at a hotel near the airport that offers free airport shuttle.

Itinerary in Detail-
June 5- Day 1 -Day Itinerary – Arrival in Quito Ecuador
Welcome to Ecuador! On arrival at Quito Airport, you will be met and transferred to Swissotel for your first night. Get some rest as your adventure begins tomorrow!
Overnight: Swissotel Quito Hotel
Swissotel Quito Hotel is located in the quiet Floresta neighborhood of Quito, Ecuador. From this convenient position guests can easily explore the nearby cultural and entertainment attractions the charming town has to offer, such as theatres, museums, restaurants and boutiques.
Accommodation consists of elegantly designed rooms/suites with tea/coffee making equipment, a mini bar, safe, telephone, cable TV and Wi-Fi access.
Guests can enjoy robust meals at the 2 in-house, fine dining restaurants which serve an array of various cuisine styles. There is also a laid back café and bakery, as well as 2 bars/lounges where one can relax with drinks and light meals. Guests also have access to the hotel's leisure facilities which include a pristine outdoor/indoor swimming pool, a wellness center, and a fully equipped gym.
Hotel and Breakfast Included
June 6 - Day 2 - Rest Day at Swissotel - Most flight from the U.S. are red-eye flights so this gives us an extra day to catch-up and rest-up. It is also insurance in case any flights are delayed or baggage lost. There is an optional opportunity to take a half day tour of Quito.
Hotel and Breakfast Included
June 7- Day 3 – Transfer and board Infinity Luxury Yacht
AM: Fly from Quito to San Cristobal Airport and Transfer to the Infinity.
This morning you will transfer to the airport for your flight to the Galapagos. Upon arrival, you will be met and transferred to the port, where you will take a zodiac to your boat. Flight and Transfers are included
PM: We sail to Black Turtle Cove in the northern part of Santa Cruz. This inlet is surrounded by mangroves and is only accessible by dinghy. The shallow cove is a haven for young marine life. We will be able to snorkel with the possibility of seeing Black-tip and white-tip reef sharks, and sea turtles A variety of rays are often spotted here.
While aboard Infinity all, room, meals, use of kayaks and all activities are included.
June 8 Day 4 – Aboard Infinity – Genovesa Island
AM: El Barranco, also known as Prince Phillip's Steps, is a steep, rocky path that leads up a high cliff rock face. A marvelous view can be appreciated from here. This site is also home to Palo Santo vegetation as well as red-footed boobies, short-eared owls, Galapagos storm petrels, and Galapagos doves. This is a moderate hike.
PM: Darwin Bay - Visit the white-sand coral beach of Darwin Bay which includes a half mile trail (0,75km) that winds through mangroves filled with land birds. Nazca boobies, red-footed boobies, and swallow-tailed gulls, which can easily be spotted here. Further down the path we'll find tidal pools where sea lions swim playfully. At the end is a spectacular view of a cliff. There a short easy hike and snorkeling in the bay.
June 9 Day 5 – Aboard Infinity – Santiago and Rabida Islands

AM: Sullivan Bay - You will visit Sullivan Bay located on the southeast part of Santiago. This place is interesting for its geology because the area is covered by lava flows. This place has elevations in the form of small volcanoes formed by the lava flows. There is easy/moderate hike.
PM: Rabida- We will visit Rabida Island (or Jervis) which is one of the most colorful and volcanically varied islands in the archipelago as well as a great snorkeling site. We will start on Rabida's famous maroon/red sand beach, and after an easy hike, you will arrive to a stunning lookout to enjoy the amazing landscapes. The island is a birdwatcher's delight. Some species are abundant such as a few varieties of finches, Galapagos vermilion flycatchers, Galapagos hawks and brown pelicans. We'll be taking a short hike and doing some snorkeling.
June 10 Day 6 – Aboard Infinity – Santa Cruz Island
AM: Fausto Llerena Breeding Center - We will visit "Fausto Llerena" Giant Tortoises Breeding Center in Puerto Ayora, Santa Cruz Island, where giant tortoises are bred in
captivity; this is home to tortoises ranging from 3-inches (new hatchlings) to 4-feet long adults. Subspecies of the giant tortoises interact with one another, and many of the older tortoises are accustomed to humans stretching out their heads for a photo
opportunity. The babies are kept until they are about four years-old and strong enough to survive on their own. This is ideal opportunity to photograph the famous Galapagos Tortoises. Short Walk.
PM: El Chato - El Chato reserve is divided into two areas: Caseta and Chato This will be an easy to moderate hike. The reserve allows visitors to observe giant tortoises in the wild during the dry season and is also a good place to spot short-eared owls, Darwin's finches, yellow warblers, Galapagos rails and paint-billed crakes.
June 11 Day 7 – Aboard Infinity – Santa Cruz Island
AM: Dragon Hill - The visitors' site at Dragon Hill is located in northwestern Santa Cruz Island and consists of a 1,600 m long trail that runs through three different environments. The beach is very rocky. At high tide it's a nice place for snorkeling. At this visiting site you can find vegetation of the typical intertidal zone and dry zone. There is a short hike and at high tide snorkeling. This is a good place to see Frigate birds, herons and the famous Blue-Footed Bookies. While snorkeling we might see ray and reef sharks.
PM: Bachas Beach - Bachas Beach is located on the north shore of Santa Cruz and is a beach for swimming. One of the few remnants of the U.S. World War II presence in the Galapagos, a floating pier, can be seen here. You may see flamingos, Sally Lightfoot crabs, hermit crabs, black-necked stilts, and whimbrels. During their breeding season sea turtles also nest on the beach. Some easy hiking.
June 12 Day 8 – Aboard Infinity – Floreana Island
AM: Post Office Bay - You will land on a beach and head to a spot where 18th century whalers placed a wooden barrel used as an unofficial mail box. The custom continues to this day with Galapagos visitors. So, don't forget your postcards, and don't be surprised if the post card arrives to its destination before you even get home! There is also a nice sandy beach here and a good opportunity for snorkeling.
PM: Cormorant Point and Devil's Crown - Cormorant Point hosts a large flamingo lagoon where other birds such as common stilts and white-cheeked pintails can also be
seen. The beaches on this island are distinct: The Green Beach is named so due to its green color, which comes from a high percentage of olivine crystals in the sand, and the Four Sand Beach is composed of white coral. This will me a hike of about a mile. It's a great place to photograph flamingos. After Cormorant Pint we will move on to Devil's Crown.
Devil's Crown - You will have a chance to snorkel around Devil's Crown which is the rocky remains of an offshore volcano sticking out of the water. This is a great snorkeling location and a great chance to see and photograph a wide range of marine creatures.
June 13 Day 9 – Aboard Infinity – Espanola Island
AM: Suarez Point - On the trail to Suarez Point you will have the chance to spot blue-footed boobies, albatrosses, and Nazca boobies. This island is the breeding site of nearly all of the world's 12,000 pairs of waved albatrosses. You will also visit a beautiful site on the ocean front where there is a cliff that the large albatrosses use as a launching pad! You will have the chance to see the famous blowhole that spurts sea water into the air. The landscape is great for photography.
PM: Gardner Bay, Gardner Islet & Osborn Islet - This excursion takes you to the spectacular Gardner Bay. After landing, you can walk across a lovely white-sand beach amongst a busy sea lion colony or dive into the water to swim with sea lion pups. You may also see curious mockingbirds on the beach. This is a great opportunity to swim with sea lions.
June 14 Day 10 – Disembark Infinity – San Cristobal Island – Shore Visits & Flights
AM: This morning you visit the Gianni Arismendy Interpretation Center. The Gianni Arismendy Interpretation Center was opened in 1998 as a phase of the project "Interpretation and Environment Education Project." Visitors enjoy expositions on natural history, human history, and conservation. The conservation efforts represent the movement to protect the wildlife and natural environment through means of population and tourist control. The Gianni Arismendy Interpretation Center has an outdoor stadium, audio-visual equipment, and meeting rooms.
PM: This afternoon, you will be transferred to the San Cristobal Airport for your flight to Quito. Most flights from Quito to the U.S. depart Quito in the late afternoon or evening depending on your travel plans you can connect with your onwards flight home from here. If you like, or if you have an early morning flight, the next day, we can reserve a room for you at a hotel near the airport that offers free airport shuttle.
Pricing: $10,100 per person / Deposit of $2500 per person required
Included:
Airfare from Quito to the Galapagos

All meals throughout cruise

Transfers in the islands

All excursions

2 Bilingual National Park Guides

Park and Transfer Fees

Use of a wetsuit and fins

Use of Kayaks

Airport transfers for Galapagos flights
Excluded:
Airfare from U.S. to Ecuador

Extra night in Quito for late departure for home

Optional tour of Quito

Lunch and Dinner in Quito

Alcoholic drinks

Travel / medical insurance

Tips (about $20/person/day –recommended)

Personal expenses
Availability:
There are still 6 places available on the ship. If you are interested please let us know ASAP as these spaces will fill-up quickly.